The Powerful Methodology Behind Our Recruitment Training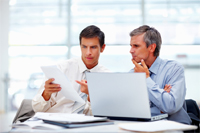 To achieve success with our IT recruitment training, each program is instructor-led/web-based, includes active audience participation, and is conducted in a seminar / workshop environment. Participants are presented with real-life IT recruitment situations and are made to practice exercises to apply their learning and test their acquired skills. Our methodology is to share the nuances of IT recruitment and simulate different aspects of real-life recruitment situations in a professional atmosphere.
Your instructor, a veteran IT recruiter, will facilitate the training as a workshop and a seminar. During the training, we will suggest methods and provide guidelines for recruiting, the way it is successfully done in any IT recruitment division. Complete and comprehensive – that's the Infonnel approach.
Contact us today to receive our premium training for recruiters.